Diabolo Chick
Choose a legendary design, that is ultimately «chick» yet so modern…
Cock-a-doodle-doo !!
A «chick» joins the Diabolo Club range.
Cotting introduces DIABOLO CHICK, the new design
that completes the DIABOLO CLUB coated fabric collection.
Chick is a reference to the term pied de poule (literally "chicken's foot") which is French for the
houndstooth pattern that has been adopted for the 2022 edition of Diabolo. The chequered design is vaguely reminiscent of a hen's footprint and its graphic effect gives a 3-dimensional illusion !
The collection combines history and modernity…
The houndstooth pattern originated in Scotland where it was created by weavers at the end of the 19th century. It was made fashionable in the suits worn by Edward VIII in the 1930s and was widely adopted by the aristocracy of the day.
In France in the 1950s, the house of DIOR made houndstooth its emblem and COCO CHANEL used it for her distinctive tailored suits.
Today, the return of the vintage look goes beyond the world of fashion to include furnishing fabrics.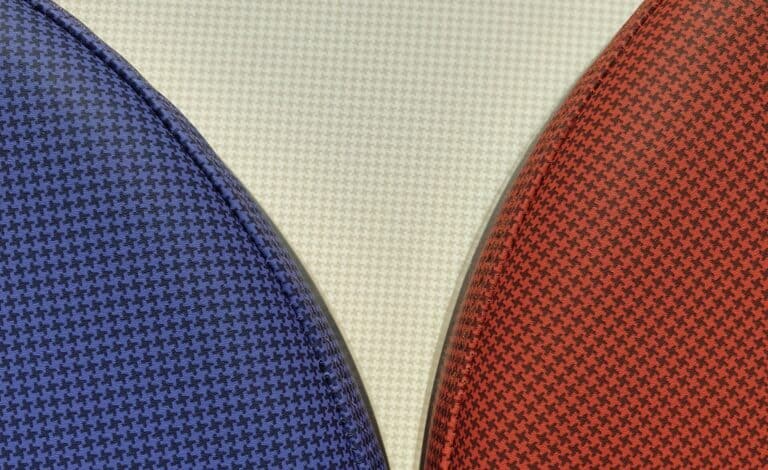 With this iconic pattern,
DIABOLO CHICK combines creativity and technical excellence for uses in interior decoration, the health sector and the contract industry.
Its range of colourful and whimsical colours will appeal to architects, designers and interior decorators looking to include elements of tradition and modernity in their projects.
The DIABOLO CHICK colour range is divided into 2 families which evoke the origins of the houndstooth pattern.
On the one hand, its Highland roots with 5 "bucolic" colours and, on the other,
haute couture elegance illustrated in the "society" colours!
For this last quarter of the year, Cotting invites you to its next 2 exhibitions:
– EquipHotel from November 6 to 10 in Paris
– AIX from November 8 to 10 in Stuttgart (Germany)