On the style and materials side: what stood out at the start of this Parisian trade show season?
Velvets are everywhere, and they blend easily with different styles: they mix indifferently with "Art Deco" or "Scandinavian" decors by providing a feeling of comfort and softness, while suggesting a touch of vintage.
They are more or less detailed: some are corduroy, others cut out, and some are even incredibly soft and feel like microfibres. Lastly, some have a raw and irregular aspect, are less pleasant to the touch and have a motif that looks like a plain weave, somewhat like used vintage leather.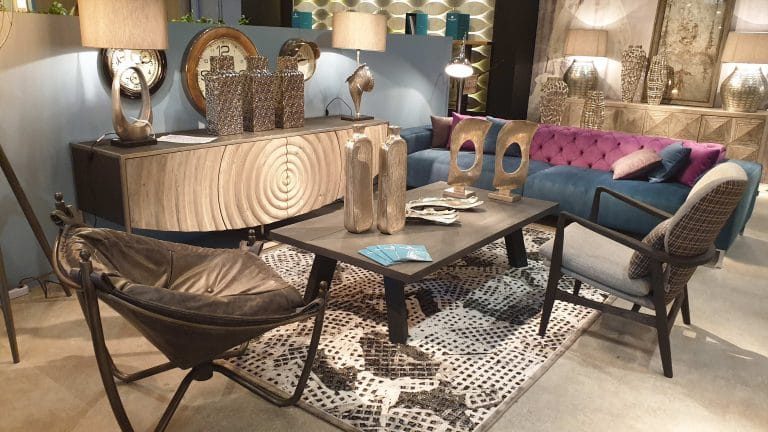 Overall, the "Simple Design" style fades away in favour of "Fifties" and "Revisited Classics" ones, as well as a return to more exhuberance and fantasy. We find a certain type of sophistication in the decors: on the finishing side, seats are pleated or quilted. At the very least, they include detailed finishings (piping and rush). When it comes to furniture legs, they are made of raw black or brushed metal or golden. Chrome and silver make way for brass.
The "Art Deco" design mixes with flea market objects or those from other cultures, and create an entire coloured and poetic universe, leading to a sense of "Bohemia", spontaneity and freedom. Cushions, covers and a Kilim rug add to the decors. You can stage your interior and tell a story.

We still find the strong presence of "Jungle" motifs, fully in tune with the plant theme, which has lasted from one show to another: exterior elements step into interior spaces, just as indoor and outdoor furniture mixes.
Other continuing trendy motifs: revisited tartans and "houndstooth" ones cover these comfortable seats.
Whatever the décor option chosen, many soft and thick wrap-around shapes evoke a feeling of comfort and softness at first sight. Whether it's shelves or mirrors, the angle of furniture, motifs, materials or textures, roundess is very present in Design.