COTTING is stepping up its transformation
Since his arrival in June 2020 as CEO of the Cotting Group, Benoit Boulet and his team have built and implemented an ambitious transformation plan, in line with a reaffirmed strategy:
– to become a major player in its five sectors: mobility, contract, personal equipment, sailing and health/protection & well-being,
– to develop in Europe, thanks to its Made in France and Made in Belgium positioning,
– to place the customer at the heart of its operations, expand its innovation approach and structure its CSR policy,
– to accelerate its development through external growth.
Alongside our 300 loyal and experienced employees, we are pleased to welcome new people who will contribute to accelerating our transformation through their complementary skills and experience.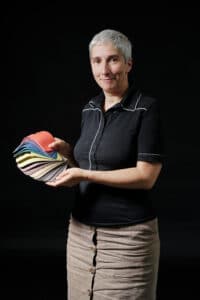 Nicoleta Badescu
Since February 2021
Griffine Site Manager
Nicoleta is a graduate of the Ecole Centrale Paris. She has more than 20 years of experience in factory management at L'Oréal and Louis Vuitton, as well as
successful entrepreneurial experience. She will bring to Griffine her know-how
in transformation and industrial excellence.
Julie Dumont
Since December 2020
Cotting Human Resources Manager
Julie has dual training in Engineering and Human Resources from
ESSEC Business School. She has over 20 years of experience in the industry.
She will accelerate Cotting's HR transformation and
boost employee engagement and skills development.
We have organised the Cotting sales team by geographical area, with dedicated Key Account Managers:
Nicolas Soldermann
Since October 2020
Nicolas is trilingual. He holds a Masters degree in
Applied Foreign Languages and International Business. He has 30 years of experience in developing key accounts in the textile industry. Nicolas will develop the North of France and Germany-Switzerland-Austria areas.
Jean-Michel Pierre
Since December 2020
Quadrilingual, Jean-Michel has a double Master's
degree in Business, International Relations and
Political Science. He has experience with
key accounts in the chemical industry, acquired at Arkema, Dow Chemical and Omnova (Synthomer).
Jean-Michel will manage the south of France and Southern Europe area.
Pieter Detremerie
Since January 2021
Pieter is trilingual and holds a double Master's degree
in Business Administration and International Relations. He has extensive experience as a consultant with
Mint Europe. Pieter will develop the Benelux, UK
and Northern Europe area.
With a continuing emphasis on quality improvement, they strengthen the current team: 
Antony Baille
Since February 2021
Purchasing Manager
Antony is a graduate of the DESMA Master's degree
in Strategic Purchasing Management at Grenoble IAE (Graduate School of Management). He has built up
a long experience in purchasing in the industry (Safran, Zodiac, Faurecia, etc.). Antony will be responsible
for consolidating synergies and deploying
good purchasing practices at Cotting.
Thomas Ducrocq
Since November 2020
Supplier Quality Assurance Manager
Thomas is pursuing a Master's degree in Quality Management at the Université de Technologie in Compiègne (UTC). He brings experience from the automotive (Valéo, Stellantis, Renault) and
aerospace (Safran, Thales) sectors. Thomas will strengthen Cotting's quality requirements
throughout its network of suppliers and partners.
Fabien Luvini
Since May 2021
HSE Manager
Fabien is a chemical engineer and holds aMaster's degree in safety and industrial risk management. He has more than 8 years of experience as a QSE manager (L'Oréal, Michelin, GlaxoSmithKline, etc.). Fabien will provide operational support to ensure the health and safety of employees and regulatory compliance of the site.
As we approach the 75th anniversary of Griffine and the 56th anniversary of Plastibert,
we are writing a new chapter in the long history of the Cotting Group.