Coated fabrics on the move
COATED FABRICS ON THE MOVE
Designer and manufacturer of innovative solutions for the automotive sector
For several decades now, Cotting Group, through its two entities, Griffine and Plastibert, have designed and manufactured coated fabrics for the worlds of fashion, leather goods and furnishings, but also for the car industry.
Mobility has become the greatest challenge of the 21st century and the automotive industry's ecological and technological transformation is in full swing.
The car is a living space and now demands that our coated textiles evolve to satisfy the new requirements of both manufacturers and consumers.
Indeed, our product ranges destined for vehicle interiors are already being manufactured without solvents from raw and recycled materials, through a more responsible production process aimed at reducing our environmental impact.
But we're taking things even further with the ongoing development of brand new ranges based on bio-sourced raw materials. This will allow us to propose hybrid textiles containing more than 50% eco-friendly materials.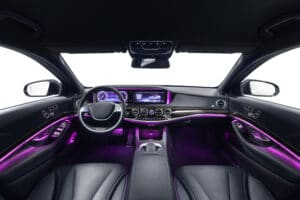 Thanks to smart textile technologies, we will be able to produce backlighting for door panels, for example, and also integrate body-heat sensors.
The multisensorial nature of our materials will provide you with a tactile and visual quality that comes only with specific high-performance technical characteristics.
Designed in a spirit of transparency and environmental mindfulness, these European-made coated fabrics look decidedly set to accompany us into the future.

Eco-design, performance, innovation and sustainability
are the watchwords of today's car industry design centres

Savoir-faire, style and continuous progress towards mindfulness
of the environment and of humans are the values driving the development of new materials by Cotting's R & D teams
Our materials are grouped in 4 main product categories determined by their usage and implementation process:
TEP
Range with backing layer
Advantage: suitable for metallic, double-gloss and many other finishes
Applications: Seats and seat backs, armrests, headrests, door panels
Processes: Stitching, in-situ foaming, gluing
WOODFORM
Range with backing layer
Advantage: Different thicknesses possible
Applications: door panels, armrests, seat backs
Processes: Injection, low-pressure moulding, gluing, thermo-compression
SENSORIAL
PU range with backing layer
Advantage: lighter than leather A real alternative to leather
Applications: door panels, fascias, gear levers, armrests, seats & seat backs
Processes: Stitching, in-situ foaming, gluing and injection
FORMURA
Range without backing layer
Advantage: intended specifically for fascias accommodating airbags
Applications: fascias, door panels, seat backs and armrests
Processes: thermo-forming, thermo-sleeving and thermo-compression