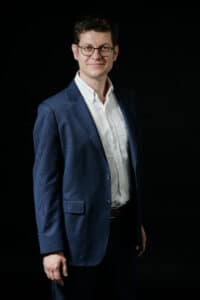 Since June 2020, Mr. Benoit Boulet has joined the Cotting group as Chief Executive Officer.
Tell us about your career!
Since graduating from the INSA engineering school in Lyon and with a Master's in Entrepreneurship from HEC Paris, my career path has followed 3 phases. Management of industrial sites, sales management and, as a logical development, general management. I was lucky enough to work in a wide variety of sectors: foundry for the automotive industry, industrial laundering, furnishings, contractual logistics, the circular economy for electronic devices, insurance, and e-commerce. I've also worked abroad where I lived for 12 years, and have managed companies in 7 different countries. And I've had the opportunity to handle acquisitions and incorporations of a number of international companies.
What were your first impressions when you arrived at Cotting?
Firstly, when I joined Cotting at the beginning of June, I in fact discovered 2 very different companies – Griffine in France and Plastibert in Belgium – which complement one another well. Plastibert is very agile and highly versatile, while Griffine's more rigid structure is more targeted on specific sectors like car manufacturing, furnishings and leather goods. Each company has something to offer the other. Plastibert's diversification makes it resilient in times of crisis and this is an example for Griffine to follow. The latter's expertise acquired through dealing with clients in the automotive sector can also be of benefit to Plastibert.
I was also impressed by the highly technical and extremely demanding nature of our professions. Our quality control department makes sure we comply with the specific quality standards of each sector, and sometimes even client-specific standards. Our products are certified under the most demanding standardisation procedures, with wear-and-tear trials that can involve more than 2 million cycles. Some defects are analysed under the microscope. Certain products are tested by several years' exposure to real-life conditions and the extreme temperatures of sand deserts and ice deserts.
Finally, I found that they were robust companies that have been built up over many years. Indeed, next year Griffine is celebrating its 75th anniversary. At a time when start-ups are booming in an ever-faster world, that's quite a remarkable score.
Why did you decide to join Cotting?
I chose to come to Cotting for several reasons.
Firstly, I enjoy my work. It involves manufacturing coated textiles – a product that's practical, long-lasting and pleasing to the eye – through a combination of robust industrial production processes of very high standards and an almost artisanal expertise when it comes to the human element.
Secondly, I appreciate the diversity of Cotting's activities. We are lucky to be working in a wide variety of fields, from car interiors to luxury leather goods, from furnishings for hotels, restaurants and entertainment venues to protective clothing for industry, and from mattresses for the healthcare sector to nautical equipment.
Last but not least, I believe the market prospects hold enormous potential for Cotting. For the last 10 years, the coated textile sector has seen annual growth of 4% and this was set to continue before COVID came along. So we are dealing in a market that promises long-term growth and therefore deserves continued investment.
What are the challenges facing Cotting?
Cotting's 5 main challenges are: sustainable development, innovation, agility, digitalisation, and operational excellence.
Our products follow the underlying trend towards veganism. Coated textiles can be used to produce items that contain no substances of animal origin and therefore comply with this movement.
Furthermore, our products carry the Sanitized label, which means they have antimicrobial and anti-coronavirus characteristics, unlike other textiles and leather products. This is particularly important during this health crisis period.
Cotting pioneered the use of water-based, solvent-free varnish and, more recently, varnish that we recycle ourselves.
We need to go further still and accompany our clients, especially when they want solutions based on recycled textiles. Our R&D department is currently working on several innovation projects.
We must also do more to boost the reduction of our carbon footprint. We are proud to have production plants within easy reach of our clients, most of whom are located in Europe. Our French- and Belgian-made products greatly contribute to reducing that carbon footprint.
Our second challenge is to innovate. We expect soon to release a unique product that will solve a major issue for our clients in terms of customising colours and silkscreen printing, with connected textile solutions. There are multiple potential applications.
We have also accelerated the release of 2 major ranges: the Flanel range with its superb fabric appearance at the beginning of the year and, by November, the Bakero range for the outdoor and nautical sectors. We must innovate even more regularly and I want Cotting to come up with at least one new collection per year.
We must go further in adapting the design of our products to their market, especially in terms of colour. Colours that are popular in Italy do not necessarily appeal in Germany or France.
We must also be proactive when it comes to designing new products for the automotive industry. With this in mind, we have just produced a highly innovative tool to illustrate our solutions, with the help of experts in car industry trends. We shall be presenting this tool to our prospective and current clients.
Our third challenge is agility. We need to be able to meet our customers' demands even more rapidly. To this end, we are soon to install a pilot production line which will enable us to carry out trials on new products very quickly without inhibiting the rest of our production. This pilot line will speed up the development of new products and make us more responsive ahead of the co-design phase with our clients.
Digitalisation is our fourth challenge. The health crisis has revealed strong growth in online trade. We are studying this issue, just as we are studying EDI and integrated supply chain solutions alongside our clients and distributors, in the aim of optimising stock management and quality of service throughout the process. We are currently setting up a Kanban-type system with one of our clients.
Our final challenge is to achieve operational excellence. Being present in the automotive sector in particular, we must mirror our clients' exact needs by adopting a process of continuous enhancement. This process has already been implemented and we must adhere to it on a daily basis. Our clients urge us to improve day by day and to constantly question ourselves.
What are your strategic priorities?
As I already mentioned, our strategy focusses on sustainable development, innovation, agility, digitalisation and operational excellence.
I would like to mention another 2 strategic areas: a strengthening of the synergies between Griffine and Plastibert, and the development of the commitment of our employees, the company's most important resource.
Do you have a message for your clients?
My message to clients would be: help us to serve you better, by letting us know your difficulties, needs and desires.
Despite the health context, I began meeting our main clients and distributors in France and Italy as soon as I arrived. I shall continue to meet with them over the next 3 months.
I also wish to conduct a widespread survey among our clients, to gain a better understanding of their expectations and provide them with better service. Serving our clients is our number one duty.
How would you describe Cotting?
Cotting is a rough diamond that just needs polishing. It is a long story that's still being told with every new challenge.